Children love to play and use their imagination, and a playhouse is the perfect way to encourage their creativity. But what if you don't have the budget to buy an expensive playhouse? Don't worry, because there are plenty of fun and free playhouse designs out there that can provide hours of entertainment for your little ones.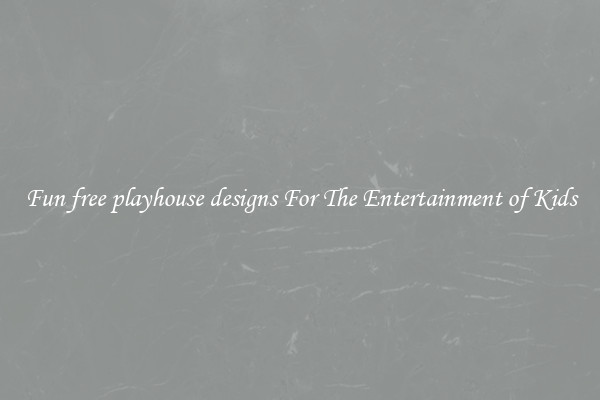 One classic and simple design is the cardboard box playhouse. All you need is a large cardboard box, some scissors, and markers or paints for decoration. You can cut out doors and windows, and let your child's imagination do the rest. They can turn the box into a castle, a spaceship, or even a cozy little home. The best part is, it's easy to fold up and store when not in use, and you can always find a new box when the current one gets worn out.
Another free and fun playhouse design is a blanket fort. Gather some chairs or tables and drape blankets over the top to create a cozy space. You can use clothespins or hair ties to secure the blankets to the furniture. Fill the fort with pillows and stuffed animals for added comfort. Children will have a blast hiding inside, playing make-believe, or even having a tea party with their toys.
If you have access to large cardboard tubes, you can make a tunnel playhouse. Simply connect the tubes together with tape or glue and create a long tunnel. Children can crawl through the tunnel, pretending they are exploring a cave or crawling through a secret passage. This playhouse can be used indoors or outdoors, providing endless opportunities for adventure.
For those who are handy with tools, a pallet playhouse can be a fun and affordable option. Pallets can often be found for free at construction sites or warehouses. With a little creativity and a few additional materials, you can transform these pallets into a sturdy and unique playhouse. Add some paint, curtains, and cushions to create a cozy space for your child to play.
If you're looking for a more natural playhouse design, why not use sticks and branches? Gather some long, sturdy branches and use them as the frame for a small tent or teepee-style playhouse. You can secure the branches together with twine or rope, and cover the frame with old bed sheets or blankets. This playhouse design is great for outdoor play and can provide a sense of adventure and connection to nature.
Playhouses are a wonderful way to encourage imaginative play and provide a space for children to explore and have fun. Whether you choose a cardboard box, a blanket fort, a tunnel, a pallet, or a natural design, these fun and free playhouse ideas are sure to keep your little ones entertained for hours. So gather your materials and let the creative play begin!